---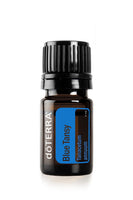 Blue Tansy essential oil, which comes from the annual yellow-flowered Mediterranean plant, is high in chamazulene and sabinene. An important oil in the doTERRA Deep Blue blend, Blue Tansy is soothing to mind and body.
Description 
Blue Tansy, also referred to as Moroccan Tansy, is an annual yellow-flowered Mediterranean plant found in northern Morocco. Chamazulene, a chemical component in Blue Tansy, provides the characteristic indigo color and is recognized for its skin soothing benefits. At the same time, the main chemical component Sabinene helps diminish the appearance of blemishes. Uplifting to the mood, Blue Tansy provides a sweet aroma to fill any room. It's perfect for massaging into skin with fractionated coconut oil or lotion after a long day of work or intense exercise to aid the body in the natural recovery process.
Uses
Add a drop to one or two ounces of your favorite moisturizer or cleanser and apply topically to help reduce the appearance of blemishes or soothe skin irritation.
Include one or two drops in lotion for a restoring massage after a stressful day or extreme workout.
Primary Benefits
Helps reduce the appearance of blemishes
Provides a soothing sensation when applied to the skin
Aromatic Description
Fruity, mellow, balsamic
Collection Method
Steam distillation
Plant Part
Flower/Leaf/Stem
Main Constituents
Sabinene, Chamazulene, p-Cymene, α-Phellandrene, ß-Pinene, Camphor
Directions for Use
Diffusion: Use one to two drops in the diffuser of your choice.
Topical use: Apply one to two drops to desired area. Dilute with doTERRA Fractionated Coconut Oil to minimize any skin sensitivity or temporary staining.
Cautions
Possible skin sensitivity. Keep out of reach of children. If pregnant or under a doctor's care, consult your physician. Avoid contact with eyes, inner ears, and sensitive areas. May stain surfaces, fabrics, and skin.